Happy Monday everyone! We finally got a chilly weekend (I got to bust out my boots!)...and I would like to think that meant fall was finally here in our part of the country. But alas, a peek at this week's upcoming weather shows temperatures back up in the 80's by Thursday. I know I shouldn't complain, but sometimes the grass is just always greener on the other side, right? I'll be sure to remind myself how much I love our warmer climate though, when fall has past and other people are experiencing freezing cold temperatures, and I'm barely having to wear a jacket, let alone a heavy winter coat!
Even though we don't have any cold weather to escape, my hubby made my weekend by mentioning the possibility of a little vacation coming up in November to a warm, tropical place. Fingers crossed we can make that happen! Even though we'll have Ellie with us, she is an awesome traveler and I know we will all have a great time relaxing in the sun.
So, today I am sharing another super easy recipe that I found on none other than Pinterest (seriously, what did we do before Pinterest?)
Mexican Chicken
1 pound boneless chicken breasts
1 Tbs taco seasoning
Salt, to taste
1/2 cup enchilada sauce
4 ounces cheddar cheese, shredded
3 green onions, chopped
Sprinkle the chicken on both sides with taco seasoning; grill or saute. Cut the chicken into cubes and place in a greased 8x8" baking dish; season with salt to taste. Add the enchilada sauce and toss to coat the chicken. Sprinkle the cheese over the chicken and bake at 350 for 10-20 minutes or until the cheese is bubbly. Sprinkle the green onions on top and serve.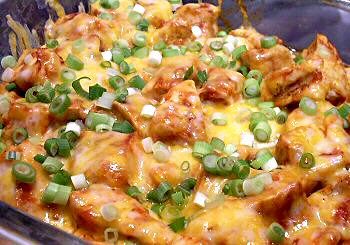 (Image credit http://www.genaw.com)
I'm also sponsoring a blog hop today! Come join me over here, and meet some new blogging friends!