So, I've been off of work this whole week (hooray!), but I am totally that type of person that gets nothing done when I have time off! You would think with a week off, my house would be sparkling clean, I would have loads of blog posts scheduled to post, and all the other odds and ends that I have been meaning to get to would be done...
WRONG!
It's been a week filled with a lot of sitting around, playing in our backyard, and pretty much getting absolutely nothing productive accomplished! Not even the work that I brought home that I really do need to get started on...ugh! Budgets and financials and year end numbers...it makes my head hurt just thinking about it.
So, in spite of my
lazy
relaxing week, I finally made myself sit down to write a post. I know this is almost a week late, but here is our little Christmas update...
The Friday before Christmas we went over to a friend's house for dinner. Right before we left, Ellie just wasn't looking right. After I asked her if she was okay and I got a quiet, murmured "no", I sort of knew what was coming and attempted to run into the kitchen. But I didn't quite make it. Yup, she threw up all over me, herself, and our friend's floor....
A LOT!
I, of course, freaked out, but we finally got her cleaned up, and packed her into the car. I don't know how we made it home without another episode, but somehow we did (maybe God figured that me having to clean my leather bag that Ellie covered in throw up was enough...so he spared my car and leather seats!). Once we got home, it was non stop. For the first couple of hours, we kept changing her and putting her back in her crib, but after doing that twice, Matt and I realized that changing her sheets all night was not going to be an option. So I hunkered down in the bathroom with her, and held her all night while she would doze off in my arms, only to wake up 20-30 minutes later and start crying, and moments later would throw up again. It broke my heart so much to watch her getting so sick. There is nothing worse than having to watch your child suffer. Needless to say, it was a long night, and this momma didn't sleep at all. I sat on the bathroom floor with her for almost 8 hours, while she got through it. Her Dr. assured us there was no reason to take her to urgent care since she wasn't showing any signs of dehydration, so we just stuck it out all night long.
After almost 13 hours of throwing up, she finally fell asleep for three straight hours, and when she woke up, her stomach seemed to be feeling better. She, however, was wrecked from the long night, and it took her almost 4 days to get back to her normal happy self. We completely canceled all of our Christmas plans, which was not fun to do. We
ALWAYS
spend Christmas with Matt's family, and my mom and my sister, but this year we didn't. We knew there was a possibility that Ellie could still be contagious, and I was just holding my breath expecting to get the same bug (considering she threw up on me all night long). There are other young kids on Matt's side of the family, and my sister is pregnant, so we didn't want to risk getting anyone else sick.
So, it was a very, very, very quiet Christmas. Ellie wasn't up for many pictures and I didn't want to force her, so here are just a few that I caught on Christmas morning...(the lighting in my house is horrible, and these pictures are definitely not in focus but I captured my girl opening a few gifts and that's all that matters!)
Overall, while it wasn't exactly what we had planned, it was still a great Christmas with the three of us...
Oh yeah, and this also helped make it a great Christmas...
Yup, my hubby is pretty amazing!!
A-MAZING
...and so so good to me! Back off ladies...he's all mine! (I love you babe, so much!)
Ellie is finally back to her normal self and is feeling much better, and I am so relieved!
And of course, once she was feeling better, we had to snap a picture of the gigantic bow on her (since she is really the most amazing gift in our lives!)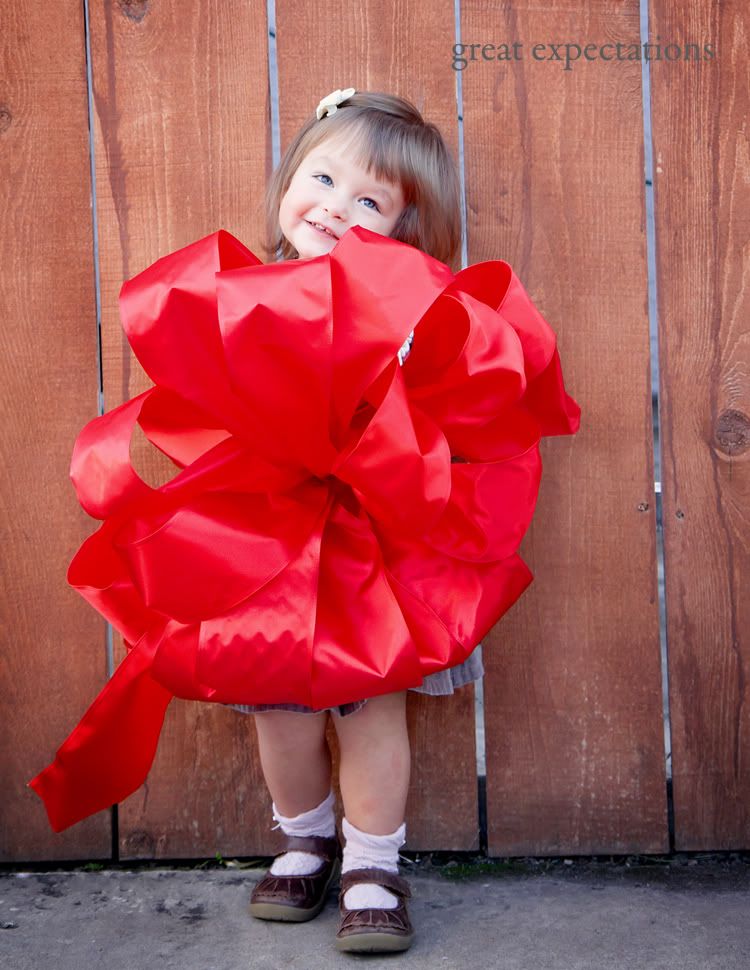 I hope everyone else had a wonderful (and healthy) holiday weekend!