First of all, if you missed my
Cans for Comments post
from Friday, please check it out! It's for a really good cause! (consider linking up too...please pretty please).
I hope everyone had a wonderful weekend! We sure did...date night on Friday night, a very fun Christmas walk on Saturday to look at all the Christmas lights, and then a very successful Santa picture on Sunday (I will definitely post the Santa pictures this week!)
And of course, its Monday...so today I am happy to introduce you to Allie, from
Table for More
. She is a stay at home mom to two little boys and another boy due in March!
(Image credit Allie)


(Image credit Allie)
Allie is completely surrounded by boys! Even their dog is a boy! What keeps her grounded and feeling more "girl"ish in her house is cooking and baking. This summer they made a major overhaul on the foods they were putting into their bodies. Allie's husband started doing the Primal diet so it changed the way she cooked dinner...pretty much no more carb fillers or processed stuff and all natural organic fruits, vegetables, and meats. Allie loves, loves, loves pizza. But with carbs being out of the picture, she had to figure out a way to make pizza without the crust. She found a recipe for eggplant pizza and then put her own twist on it!
Eggplant Pizza
1-2 large eggplants
1 lb pork sausage
1/4 cup olive oil
1 white onion
1/2 cup kalamata olives
4-6 tomatoes, diced
minced garlic
whole milk mozzarella (so that it melts nicely)
Throw your diced tomatoes, diced onion, olive oil and olives in pan to make the sauce. Let it simmer. You can add any spices that you want to taste. Turn your oven to broil. Slice eggplant and brush both sides with olive oil. Place under the broiler until light brown. Flip them over and add the tomato sauce, sausage, and cheese. Place them back under the broiler until the cheese is bubbly.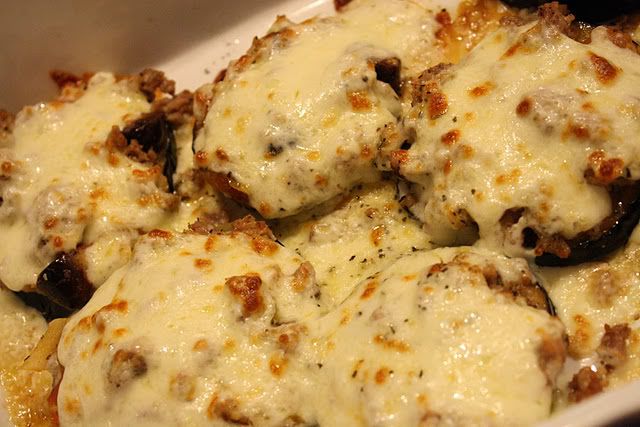 (Image credit Allie)
Thank you so much, Allie. This pizza looks amazing! And so much healthier without the crust...plus super easy to make!
Don't forget to stop by Allie's
blog
to say hello and let her know how good her eggplant pizza looks!