Hi folks! I'm back today with another recipe to share with you, and another blogger to introduce you to! Meet Lisa from
3 Girls and 1 Boy
. She's a wonderful person, and an awesome IG friend of mine :-) Lisa is a mom to 2 beautiful little girls and a proud Navy wife. She loves to create things out of nothing and she has a lot of crafting tutorials, as well as furniture makeovers that she blogs about. She also features a lot of quick, family friendly recipes on her blog that you
DEFINITELY
have to go check out!
Image credit Lisa
Pesto Pasta Salad
4 cups fresh basil leaves, packed
1 cup grated Parmesan or Romano cheese
1/2 - 1 cup extra virgin olive oil (just watch how it mixes)
1/2 cup pine nuts
6 tablespoons garlic cloves, minced
Salt and freshly ground black pepper to taste
cooked pasta
1 container cherry or grape tomatoes
Combine the basil with the pine nuts, pulse a few times in a food processor or blender. Add the garlic, pulse a few times more. Slowly add the olive oil (watch the consistency of the pesto and stop when it's how you like it) while the food processor is on (make sure the blender is off if you use a blender). Stop & scrape down the sides of the food processor with a spatula. Add the grated cheese and pulse again until blended. Add a pinch of salt and freshly ground black pepper to taste.
Mix the cooked pasta and the tomatoes up in a bowl with the pesto mixture. Top with more Romano or Parmesan cheese if desired.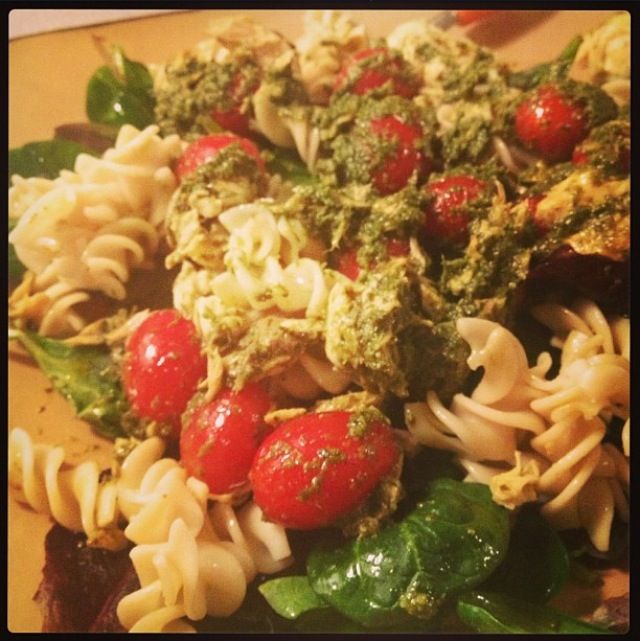 Image credit Lisa
Thank you so much
Lisa
! This looks like a great, healthy salad that can be a meal of it's own, or a great side dish. And it's easy to make, which are always my favorite kinds of recipes!