Happy Monday everyone! We had an amazing birthday party for an almost three year old (T minus 4 days). It's crazy how much older Ellie seems already. She acted so grown up this weekend...it was fun to watch, but also sad for this momma.
Today I am sharing a super, super yummy and easy recipe. Say hello to these babies...
Taco Stuffed Shells
1 lb ground beef or ground turkey
1 package taco seasoning
1 four ounce package cream cheese
12 large pasta shells
1 cup salsa
1 cup taco sauce
1 cup cheddar cheese (shredded)
1 cup Monterey jack cheese (shredded)
1 ½ cups tortilla chips (crushed)
3 green onions (chopped)
1 cup sour cream
Cook the ground beef/turkey and add taco seasoning. Prepare according to package directions. Add cream cheese cover and simmer until cheese is melted. Blend well. Set aside and allow to fully cool. While burger is cooking cook the pasta shells, drain and toss well with butter. Pour salsa in the bottom of a 9 x 13 inch baking dish. Stuff each shell with the meat mixture. Place the stuffed shells in the baking dish and cover the tops of the shells with taco sauce. Cover and bake in the oven at 350 degrees for 30 minutes. After 30 minutes, uncover, and sprinkle crushed chips and shredded cheddar and Monterey jack cheeses on top. Cook for about 15 more minutes. Serve with sour cream, additional salsa, black olives or whatever you think goes good with tacos!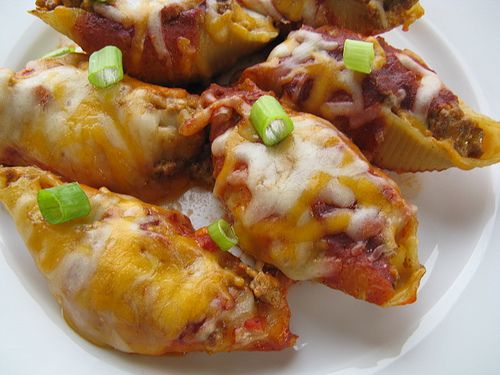 (Image credit http://blogchef.net/)