Another Monday...I think I have the Monday blues! After spending a few wonderful days away with my hubby,, and then having a great end of the weekend with my mom and Ellie, it's rough getting back into the swing of things. If only I was independently wealthy...then every day would be a weekend! But alas, it's back to work for me and the hubs. I hope everyone had a fabulous weekend!
Today I am so excited to feature Tiffany, from the infamous blog,
The Coffeehouse
. I've been following Tiffany's blog for awhile now, and there isn't a single thing about it that I don't love! Her and her husband, Dan, are just the cutest pair! Together, they have a fur baby, a lab named Sherman.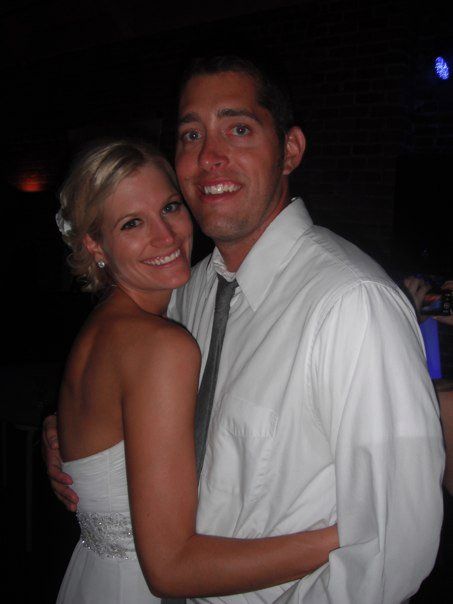 (Image credit Tiffany)
Contrary to the name, her blog has absolutely nothing to do with coffee, but instead is a just a fabulous, random blog about their lives ... including a little cooking here and there. However, the chef in their family is not Tiffany, it's Dan! Dan cooks every single night and this may or may not be why Tiffany married him (hee hee). Even though Tiffany doesn't cook, she does love to eat! And she also loves taking pictures of food with her new camera. And since we all know
someone
has to take the pictures, I guess Tiffany just won't be able to be the one cooking in their family (ha ha!)
Peach Pork Picante
2 lbs boneless pork chops, cubed
2 Tbs taco seasoning mix
1/4 cup minced parsley
2 Tbs cooking oil
16 ounces chunky style salsa
2/3 cup peach preserves
Brown or white rice
Season pork with taco seasoning and parsley. Heat oil in a large skillet over medium high heat. Add seasoned pork and saute until browned, 5 to 7 minutes. Drain grease if desired. Add salsa and peach preserves and mix well. Cover skillet and reduce heat. Simmer and cook until tender, 10-15 minutes. Serve over rice.
(Image credit Tiffany)
This recipe looks awesome! Totally original and different. I definitely need more unique recipes like this one to throw into my repertoire of weekly recipes to change things up!
If you don't already follow Tiffany's
blog
, start following her today. It's definitely a must read! She's kind, friendly, and her blog always brings a smile to my face.