So, let's just lay it out there...My darling little girl has never been a stellar sleeper...and at age 2.5, she's still not. And it's rough. When Ellie was first born, she had to be held in a carrier and walked to sleep. Once she fell asleep, I literally had to slowly and silently lower myself into bed with her resting on my body. If she even heard the click of the buckle on the carrier as I tried to unbuckle it, she would instantly wake up, and I would have to start the entire process all over again. It was then that I just knew we had an extremely light, and a not so great sleeper, but I tried to chalk it up to the fact that she was dealing with a lot of GI issues as a newborn.
Fast forward a few months...holy cow...she is sleeping through the night...in her own crib! She still wakes up at the drop of a needle, but who cares! She is sleeping through the night! Battle won!
Wrong!! Fast forward a few more months...she is now old enough to realize that we leave her in her crib and walk out of her room. Insert separation anxiety, which turned out to be a lot of howling and screaming...for an hour or more, before she would finally wear herself out and fall asleep out of pure exhaustion. We tried it all...rocking her to sleep, soothing her, rubbing her back. It turned out, she would get more pissed off when we would go in there to try to soothe her, but not pick her up and let her out of the crib, so we quickly realized we would just have to let her "cry it out". Not my favorite thing, but she just couldn't handle it if we went back into her room. From 9-16 months or so, this occurred all the time. Sometimes we would get a week or two reprieve, but the sleep issues always came back, with a vengeance.
She finally started going to sleep easier when we put her down...we breathed a sigh of relief. Then, the night time wakings started. She would routinely get startled out of her sleep and would immediately start howling and crying. Again, we tried everything. Running in to soothe her, ignoring her and letting her cry, playing white noise, leaving a night light on. Nothing worked, nothing helped.
And at 31 months old, this is still where we are now. She will usually go to bed without a fight, although most nights her insomnia will kick in and she will lay in her crib staring at the ceiling for at least 1+ hours before finally falling asleep. And then, she usually wakes up at least once, if not more times, throughout the night, crying, calling out for us, or sometimes just playing in her crib. Some nights she'll only stay awake for 20 minutes or so....but some nights, she will be up for 3+ hours (yeah, you read that right)...which means I'm up too, even if I am laying in bed trying to ignore the fact that she is awake. And through all of this, she is still a super light sleeper. The tiniest noise can wake her up from her deepest sleep and start the viscous cycle.
Sure, we'll get a week or two (sometimes three or four) reprieve every once in awhile. But sleeping has always been rough, for the past 2.5 years and still continues to be. It's exhausting, and I don't know how to solve this problem. I keep hoping she'll grow out of it, but that still hasn't happened.
This, my friends, is one of the big reasons baby #2 is still a figment of our imaginations. I'm still dealing with sleep issues with baby #1...the last thing I need is baby #2 right now! And this is also why Ellie still sleeps in a crib. She has yet to figure out how to climb out (knock on wood), and I am just dreading what "sleep issues + a big girl bed" will do to us. I can just imagine her wandering around the house at all hours of the night every time she wakes up. At least for now, she is still contained. Although, I do have a few friends that said their child slept so much better once they transitioned them into a bed...sounds too good to be true...I won't hold my breath!
Any momma's out there with some fool proof sleep solutions out there? I'd love to hear them!
All I have to say is she is darn lucky she is so cute! Because as exhausted as I am every morning after a rough night of sleep, she makes it all better with her adorable smile and her cute personality. Sleep or no sleep, I love this little girl!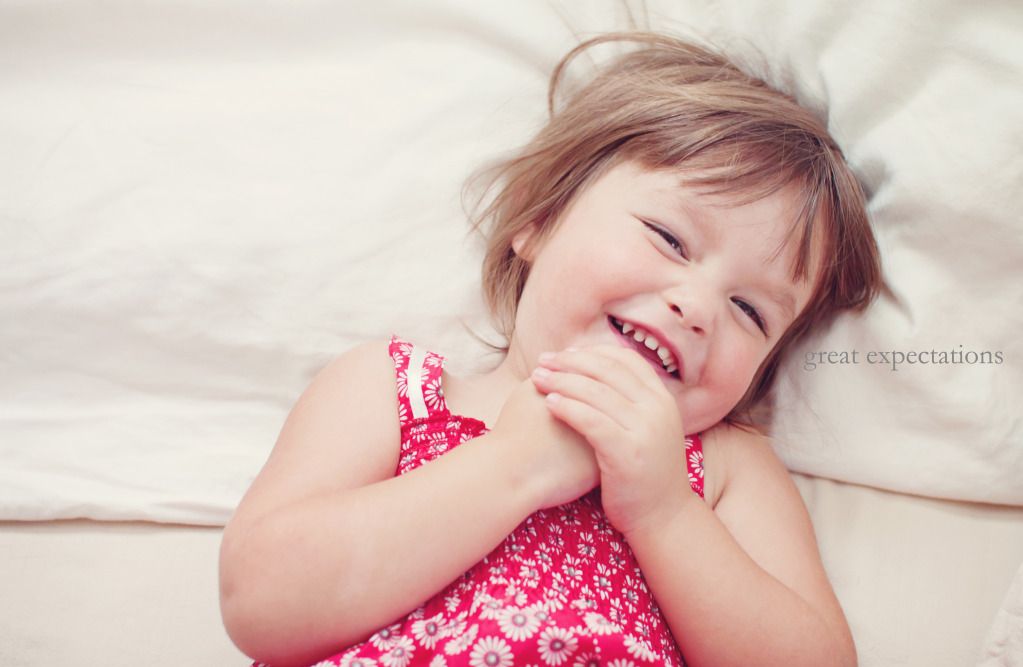 (Picture edited by the fabulous Nina S.)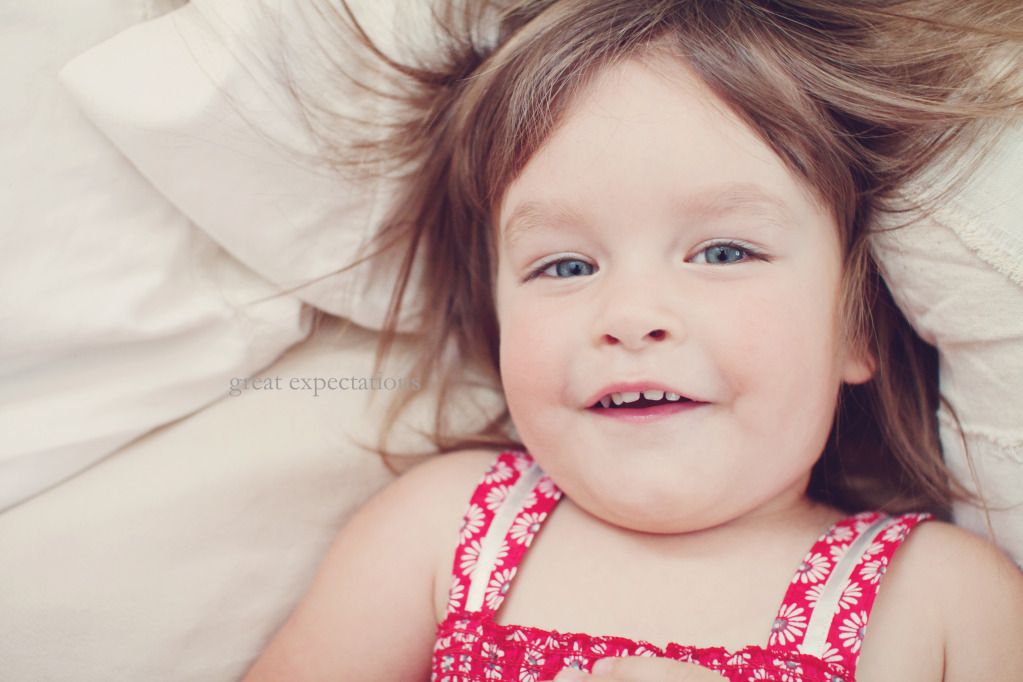 (Picture edited by the fabulous Nina S.)