Happy Monday everyone! I hope everyone had a stellar weekend! Ours was full of good friends, and lots of food, and a little bit of football. I was able to have a relaxing spa pedicure on Sunday morning...a well needed break. And Matt earned the "Super Dad" award when he chose to take Ellie to the park instead of going to the bar to watch football with his buddies. She enjoyed her Daddy-Ellie time so much! Overall, a great weekend!
Today, I'm super super excited for you to meet Katie, from
Standpipe and Sprinkles
. Katie left the sweetest comment on one of my blog posts about 3 months ago, and we've been fast friends ever since! She is seriously one of my the coolest, most friendly bloggers I have ever met, and I adore her. We chat through our blogs and IG everyday, and I love always being able to talk about our day, ask her a question, or just say a quick hello! If only we lived closer! One of the reasons we clicked so fast is because her darling little girl had similar health problems as Ellie had when she was a baby. It's always nice to hear from other momma's that had to deal with the same things you had to deal with. It definitely makes me feel like I wasn't crazy back then, and that others had to weather the same "serious reflux and eating issues" storms.
Image credit Katie
Katie lives in the suburbs of Denver, Colorado, where she raises her sweet daughter, Maile, who will be 2 in the spring! Katie has been married to the love of her life for going on 6 years. The family also includes two spaniels, and a very persnickety old cat. Katie spends most of her time reading books with her little one, going down the slide at the park 10,000 times, painting and playing pretend, and dreaming of growing all her own food.
Sweet Thai Chili & Creamy Goat Cheese Dip
12 oz White French loaf
Butter, or your favorite buttery spread (I like Earth Balance Soy-Free Natural Buttery Spread)
Parsley flakes, if desired
Rosemary
Thai sweet chili sauce (I use Mae Ploy, because it is most available in our area)
6 oz fresh goat cheese
Preheat oven broiler on low setting.Cut bread into slices, about 1/4 to 1/2 inch thick. Butter, to taste. Arrange slices on a nonstick baking sheet, then sprinkle with rosemary. Broil sliced bread until the edges are golden brown, about 5 minutes. Remove to serving plate. In a small serving dish, pour Thai sweet chili sauce over goat cheese (I use about 1/3 cup per 6 oz cheese). Garnish with parsley flakes. Dip or spread, enjoy ... and be prepared to share this recipe!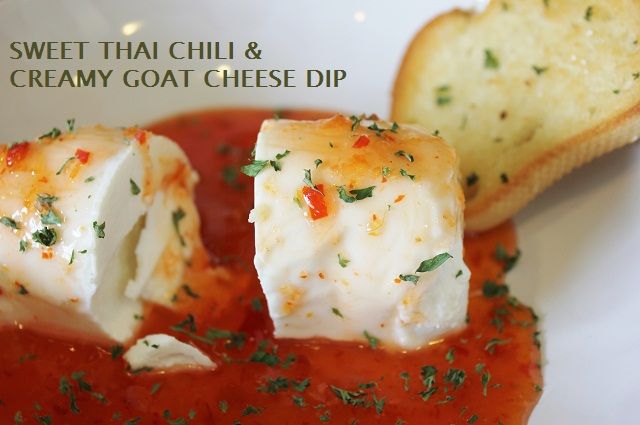 Image credit Katie
How amazing does that sound?? Perfect for a Superbowl appetizer! Or for a dinner party! Or just for an appetizer before dinner!
Thanks so much
Katie
for sharing this delicious dip with us. Now only if we lived closer so we could enjoy it together! Because I know our girls would get along grandly! :-)
Please go say hi to Katie. You'll love her! Like, you will really really adore her! She's just plain awesome!