Hello, hello, and Happy Monday! I hope everyone had a fabulously delightful weekend! We celebrated Ellie's best friend, Brayden's, birthday. It was so much fun! I can't believe he is two! That means Ellie is not far behind!
Today I would like to introduce you to the super sweet, totally cute Genevieve, from
Life on the Terrace
. Genevieve has a 14 month old son named Parker, and a husband named Lucas. She is a stay at home mom and she started her blog when she was first pregnant with Parker. Now she updates it with a lot of photos of what is going on in their life and her experiences as a new mom. She is quite a talented photographer and I always love seeing the new pictures she posts! Genevieve's blog is definitely a daily read for me!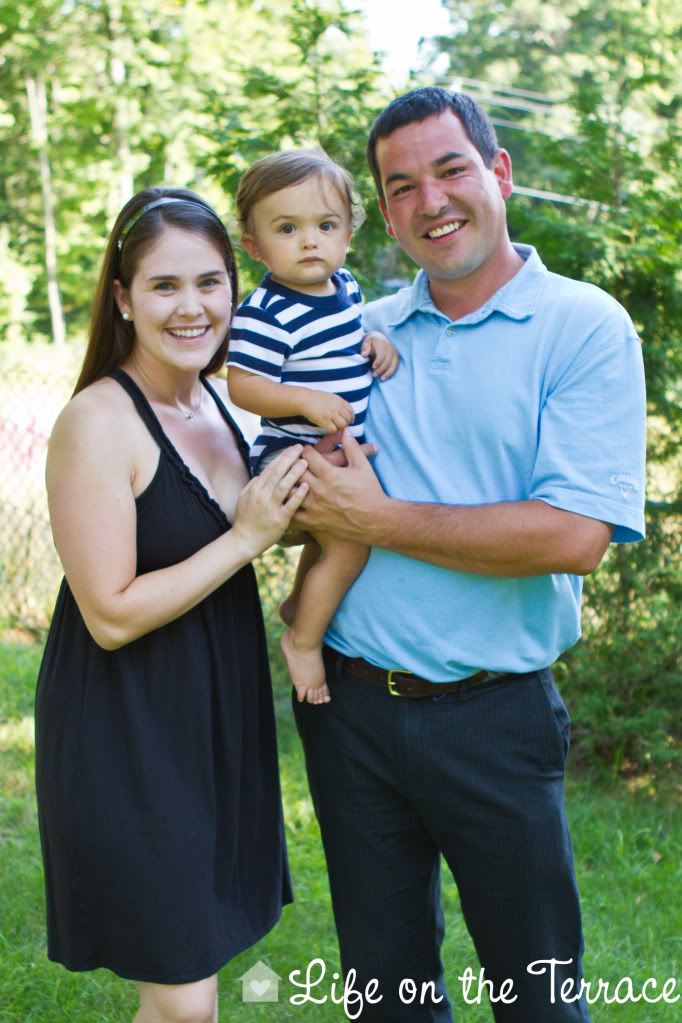 (Image credit Genevieve)
Italian Sausage and White Bean Soup
-Adapted from A Dash of Sass Blog & Cooking Light-
12 ounces hot Italian turkey sausage (or you can use sweet for a more mild flavor)
1/2 cup diced green bell pepper
1/2 cup diced red bell pepper
1/2 cup diced onion
2 cloves garlic, minced
1 (19 ounce) can cannellini beans, rinsed and drained
1 (14.5 ounce) can crushed or stewed tomatoes
1 teaspoon dried oregano
1 teaspoon dried basil
1 teaspoon Italian blend spices
Olive oil
Salt and pepper, to taste
Heat a large saucepan or high-sided skillet over medium heat. Add enough olive oil to coat the pan. Add green peppers and onion. Saute until soft. Add minced garlic and quickly saute. Be careful to continue stirring to avoid burning the garlic. Remove sausage casing and tear sausage into small pieces. Add sausage to pepper and onion mixture. Cook until browned and crumbled, approximately 5 to 8 minutes. Add beans and tomatoes. Add spices. Stir to combine. Reduce heat to medium-low. Cook for 5 to 10 minutes or until thoroughly warmed and thickened.
(Image credit Genevieve)






I am LOVING all of the yummy fall recipes lately. Perfect football food. Thanks Genevieve! I hope everyone takes a trip over to her
blog
to say hi to her and meet her darling family!