It's Monday again (boy, they just keep coming huh, these Mondays...) We had a great weekend celebrating a good friend's birthday and spending some time with my in-laws. The weather was just
amazing
and it was good to spend some time outside in the sunshine.
Today's recipe comes to us from Heather, at
Made Famous By...
Heather is a self proclaimed recipe hoarder and she loves to share the recipes that her and her friends are famous for! On her blog, she celebrates the "every day cook". She truly believes that ordinary people can make extraordinary recipes! Heather has three kids and she feels so lucky to be their mom.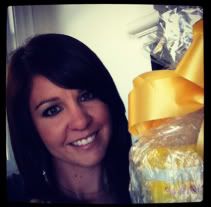 (Image credit Heather)
Heather loves Ellen and Oprah, and dreams of one day taping an episode of Barefoot Contessa with Ina Garten! She loves to spend warm days with her family at the beach, which is actually where she was just this past Saturday...discovering sea cucumbers with her son!
In honor of St. Patrick's day, which is quickly approaching, here is Heather's recipe for St. Patty's Day Chocolate Dipped Strawberries.
St. Patty's Day Chocolate Dipped Strawberries
1/2-1 lb chocolate almond bark
15 strawberries
1 jar of St. Patty's day sprinkles (or any green sprinkles will do)
green popsicle sticks
Melt to almond bark per the directions on the package. Put the popsicle stick in the bottom of the strawberries and then dip the strawberries in the melted almond bark. Cover with sprinkles and allow to cool.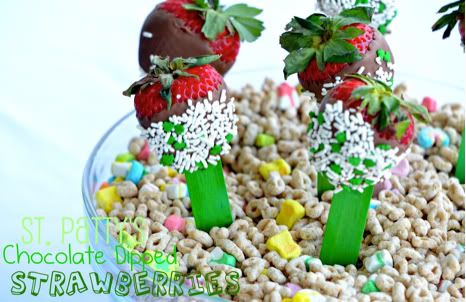 (Image credit Heather)
Super easy, festive, and so cute, huh? Yeah, I knew you would love them! Now if that's not worth pinning on Pinterest, I don't know what is! Lol! Thank you
Heather
for sharing such a cute recipe with us. We'll definitely be making these at our house!