Ah, the start of another week...I am definitely loving this daylight savings time! Light out until almost 7:00 p.m...but more importantly, it means summer is on it's way. Woo hoo!!! My absolute favorite season!
Now, onto today's recipe...today I am featuring Katie from
Keep Calm & Carry On
. Katie is a lover of all things happy and positive! She enjoys many things including fashion, photography, wine, the Ohio State Buckeyes, health, fitness, the beach, and meeting new people. She has a wonderful hubby named Billy, and a fur baby named Rocky. And she has an amazing vegetarian recipe to share with us today!
(Image credit Katie)
Roasted Chickpea Tacos
Chickpeas
2 tsp chili powder
1/4 tsp garlic powder
1/4 tsp onion powder
1 1/2 tsp ground cumin
1 tsp sea salt
1 Tbs fresh lime juice
2 Tbs water
15 oz can of chickpeas, drained and rinsed
Tacos
1 Tbs olive oil
1 onion, sliced
1 garlic clove, minced
3 bell peppers, sliced
8 oz mushrooms, sliced
1 Tbs chili powder
1 tsp ground cumin
1/2 tsp oregano
salt and pepper to taste
juice of one large lime
1/3 cup cilantro
taco shells
diced tomatoes
avocado slices
plain Greek yogurt or sour cream
To roast the chickpeas, preheat oven to 400 degrees. In a medium bowl, combine chili powder, garlic powder, onion powder, cumin, salt, lime, and water. Stir in the chickpeas. Place the seasoned chickpeas on a baking sheet that has been sprayed with cooking spray. Bake for 25-30 minutes, stirring once during cooking, until chickpeas are slightly crispy.
While the chickpeas are roasting, in a large skillet, heat the oil over medium heat. Add onions, garlic, peppers, and mushrooms. Cook for 5 minutes. In a small bowl, combine the chili powder, cumin, oregano, salt, pepper, and lime juice. Pour the mixture over the vegetables and cook for another 5 minutes or until the vegetables are tender. Stir in the roasted chickpeas and cilantro.
Spoon roasted chickpea and vegetable mixture evenly in the taco shells. Top with diced tomatoes, avocado, greek yogurt, or sour cream, and any other garnishes.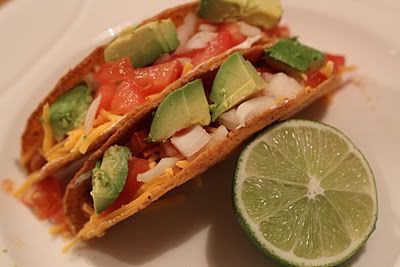 (Image credit Katie)
Thank you so much Katie! These definitely look good (and nice and healthy). Now I just have to convince my hubby to eat chickpeas in place of meat in his tacos! Be sure to go visit
Katie
, peruse her super cute blog, and thank her for this delicious recipe.