Busy, busy, busy...that's what I have been lately! I always thought I was really good at managing my time...but I don't know what has happened lately. It seems I just don't have time to get much of anything done! I need more hours in the day...or I need a personal assistant who will do all of my "not so fun" daily tasks for me. Hmmm, that would be nice huh?
Anyway, a little catch up post today...
- Ellie is doing fabulous with potty training...well, at least #1. She has been in big girl panties since the weekend we potty trained, and we rarely have any issues with her making it to the potty, even when we are out of the house. To be honest with you, potty training went a lot quicker than I ever thought it would. High five Ellie!
But
, before you get too excited about our potty training success...she is still struggling with #2. Okay, maybe struggling is an understatement. It's more like, she just flat out won't do it on the toilet. She waits until her pull-up is on for the night, and then does her business. She's "accidentally" gone a couple times on the toilet, so I thought for sure she would get over her fear, but nope, no such luck. I've tried everything...bribery, getting excited about it, reading her books about it, putting her on the potty every 1/2 hour or so to encourage her to go # 2 (that usually just ends in screaming and crying on her part) and nothing has helped. The kid just holds it and holds it until she has the safety of her pull-ups, and then she finally lets it go. I know this is a very, very common problem with a lot of little ones getting potty trained, but it still is frustrating. Frustrating to know that she is technically only 1/2 potty trained, and still relies on the security of her pull-ups to handle her #2's. For now, I think I will just back off and ignore the issue. Maybe it will just work itself out??
- Today marks the first day of me getting up at an ungodly hour to work out! Ugh! As good as it felt while I was doing it, I am so tired from just that one less hour of sleep. I am not a big fan of working out in the morning....never have been. But with working all day, and having to take care of Ellie, and dinner, and laundry, and all the other fun stuff that occupies my evenings, there was just no way I could fit in an evening workout anymore. So, the morning it is. We'll see how long this lasts...ha ha!
- I think I need a vacation...sigh. Even the little tasks in my day are getting almost impossible to accomplish. I am worn out and could use a good recharge!
- We are moving to a newer, bigger house in just a few short weeks (hooray!) Number of boxes I have packed?
Zero!
Luckily, we are literally just moving down the street. Like 8 or 9 houses down from where we live now. But, as it turns out, it doesn't matter how close your new house is to your current house...you still have to pack everything up. And I am currently failing at that task...sigh. Hopefully I get some things done this weekend.
- My one year blog-versary is quickly approaching! How should we celebrate my friends? (You can read my very first post
here
...warning, it is a
very
riveting post. Be prepared! ha ha ha).
- I'm doing some scouting for anyone who would like to be featured on my Monday "quick recipe of the week" feature. Shoot me an email if you want to be featured! It's lots of fun (I promise!)
- And finally an Easter wrap up...it was fabulous this year! It was really fun to watch Ellie since she was old enough to really "get it". We went to a wonderful Easter service at our church, and then enjoyed the sunshine while having Easter brunch outside on the veranda of a delicious restaurant. Ellie got to give a great big hug to the Easter Bunny at the restaurant. She was so excited! (It's funny....considering she is so timid and shy around other people and kids, she has absolutely no fear when it comes to these characters that are dressed up. She runs straight to them! It's so cute). Ellie took a quick nap, which gave this procrastinating momma a chance to stuff her plastic eggs with treats and hide them in the backyard. Then it was Easter egg hunt time. She got so excited every time she found an egg. Turns out the sweet treats inside the eggs were a hit, but that was about it. She looked super disappointed every time she opened an egg filled with pretzels or stickers...ha!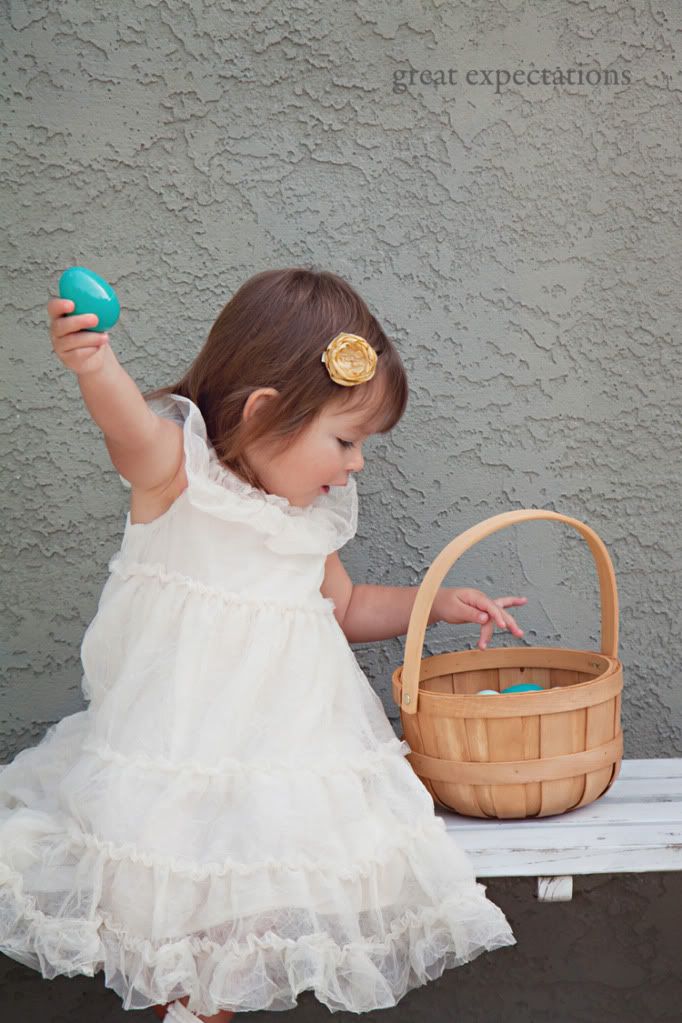 Showing us her loot!