Hello everyone! Happy Monday! I hope you are facing this new week with a smile on your face...like I am trying to do!! (Ugh, Mondays are always so hard!)
Today I'd like to introduce you to an amazing gal! Meet Michelle, from
The Momma Bird
. I just recently stumbled across Michelle's blog and I've been loving getting to know her! Michelle is a former elementary teacher turned SAHM when the Air Force moved her fabulous husband & their little family to England, October 2010. She has 2 energetic boys - Cohen (3yrs) & Lucas (2yrs) - they keep her insanely busy! If that wasn't enough, they found out they were expecting another bundle October 2012! But get this...At their 22wk gender scan, they found out they weren't expecting 1 bundle, but 2 identical twin GIRLS! She's got her work cut out for her this fall. When Michelle's not busy being a mom or a wife she's usually spending time with her friends, blogging about life or designing blogs for people.
(Image credit Michelle)
Raspberry & Blueberry Pie
1 8-ounce package cream cheese, softened
2 Tbsp. milk
1 Tbsp. sugar
1 graham cracker crust
1 cup fresh raspberries
1 cup fresh blueberries
3/4 Cup sugar
1 Tbsp. cornstarch
1/4 Cup raspberry-flavor gelatin
whipped cream (for topping - optional)
Stir together cream cheese, milk, and 1 Tbsp. sugar in small bowl. Spread cream cheese mixture over bottom of cooled piecrust. Combine raspberries and blueberries and pour into piecrust, on top of cream cheese mixture. Combine the 3/4 Cup sugar, cornstarch, dash of salt, and 1 Cup water in a saucepan. Cook and stir until thickened and bubbly. Once it's bubbly, cook it for 2 more minutes. Stir gelatin into the bubbly liquid. Cool mixture - slightly. Pour gelatin mixture over the berries in the pie. Cover & refrigerate 4 hours or overnight. Top with whipped cream if desired!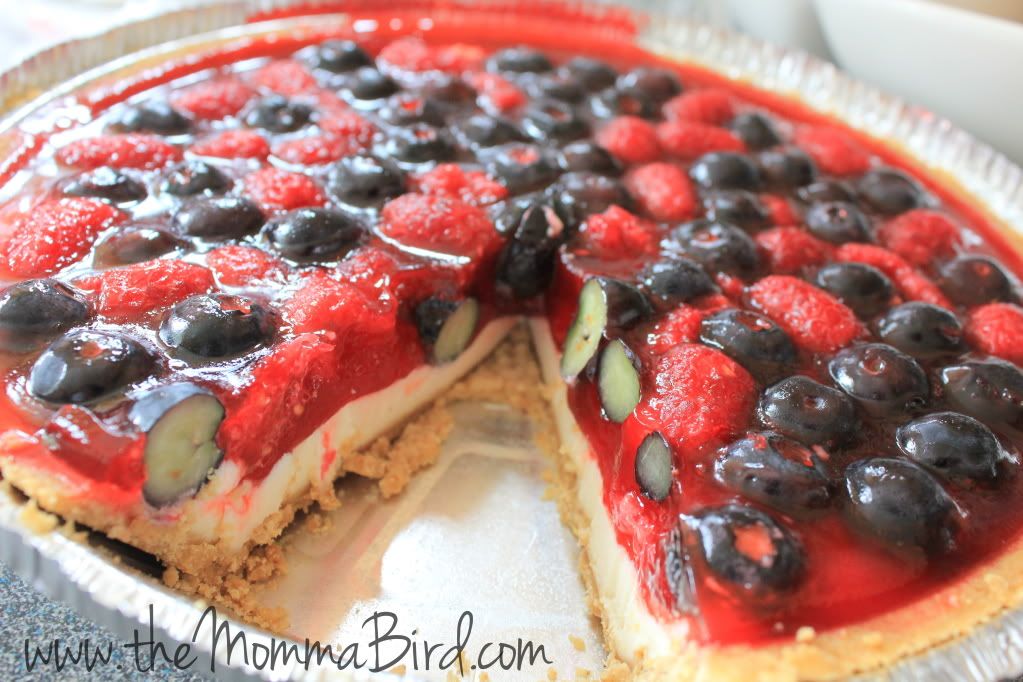 (Image credit Michelle)
Thank you Michelle, for sharing this delicious dessert recipe with us! Be sure to check her blog out
here
!