Hey folks...I know it's been awhile since I have written a "substantial" post here. Like I said a couple days ago, blame it on my friend, summer! My favorite time of the year ever!
But what better way to get back at it than with a "thought dump" post?? I know everyone loves these random posts that I do, right? No theme, no rhyme, no reason. Just my thoughts...plain and simple. So here's what's going on in my head at this exact moment:
- Tonight I just finished a fun and easy Pinterest project for our bedroom...post to come, I promise!!
- Is it
seriously
almost August already?? Where does time go?? Holy cow!
-I know I want to raise a strong daughter that is not afraid to express her opinion, but right now, at 2.5 years old, I think she has a little too much opinion! My kiddo is
so
picky about what she wears every day, it's just plain ridiculous! I have literally resorted to asking her to show me dresses (because that is
all
she will wear, btw) she likes online before I buy them. Yes, my 2.5 year old shops for her own clothes! It's out of control! But I learned that there is no sense buying her things that she is going to refuse to wear. And while I put my foot down about some things, like what she eats, and when she sleeps (or is supposed to be sleeping), her daily outfit is a battle I just choose not to fight. So, alas, I let her pick out her own clothes, and meanwhile look longingly at all the other outfits in the store that
I
would put her in if I had my choice.
- There is nothing worse than ruining your freshly manicured toes...(okay, okay, there are a lot of things that are worse, but come on...they were so pretty, and now they need touch ups already!)
- It's Friday!!! And although I usually get to stay at home with my kiddo on Fridays to have "Momma & Ellie" day, I had to say goodbye to her this morning and go into work. Ugh! I've been working a lot of Fridays lately, and I am not thrilled about it!
- I've had an intense craving for fast food lately!! And I usually don't eat a lot of fast food! What gives? Luckily for me, I haven't given in...yet. There is a weekend coming up. And who knows what will happen on the weekend!
- I am going to Vegas in a couple of weekends for my sister in law's bachelorette party. (For the record, my auto correct doesn't recognize the word bachelorette and keeps trying to replace it with the word bachelor! How sexist!). Anyway, I don't even know what I am going to do with myself in Vegas for a bachelorette party! I feel so removed from that stage in my life! I seriously don't even own any Vegas worthy dresses. And that is not me just not liking my current wardrobe...that is the truth...I think I would be laughed at if I wore some of my dresses to a nightclub in Vegas. I mean, come on, there is nothing sexier than wearing a summer maxi dress to the hottest, latest club, right? Totally clubbing worthy, right? Hey, at least it's black! lol! Luckily I am rooming with Matt's cousins, who are around my age, and both have kids as well...so if we all tire out and trudge up to our room at 11:00 p.m., I won't feel so bad!
- Okay, I have a lot more thoughts swirling around in my head right now, but I have to keep this post a decent length otherwise I feel like I will lose half of you reading this half way through it. But as usual, no post is complete without pictures. And whose is my absolute favorite person to take pictures of?? Why, yes, it's Miss Ellie herself! Here are a few shots from our latest "mini photo shoot" in our backyard.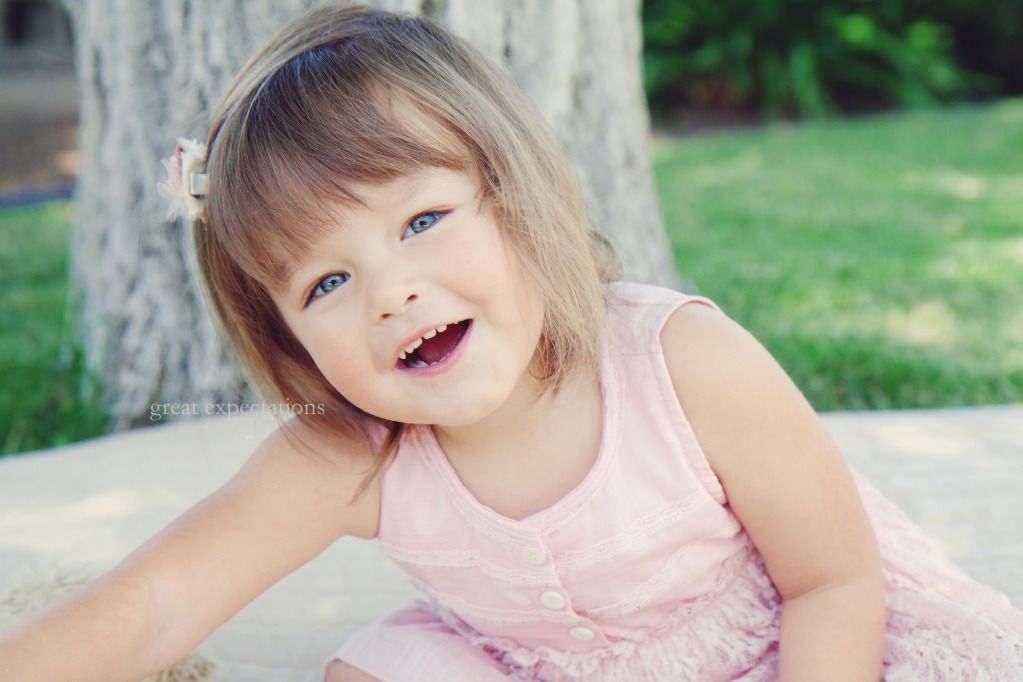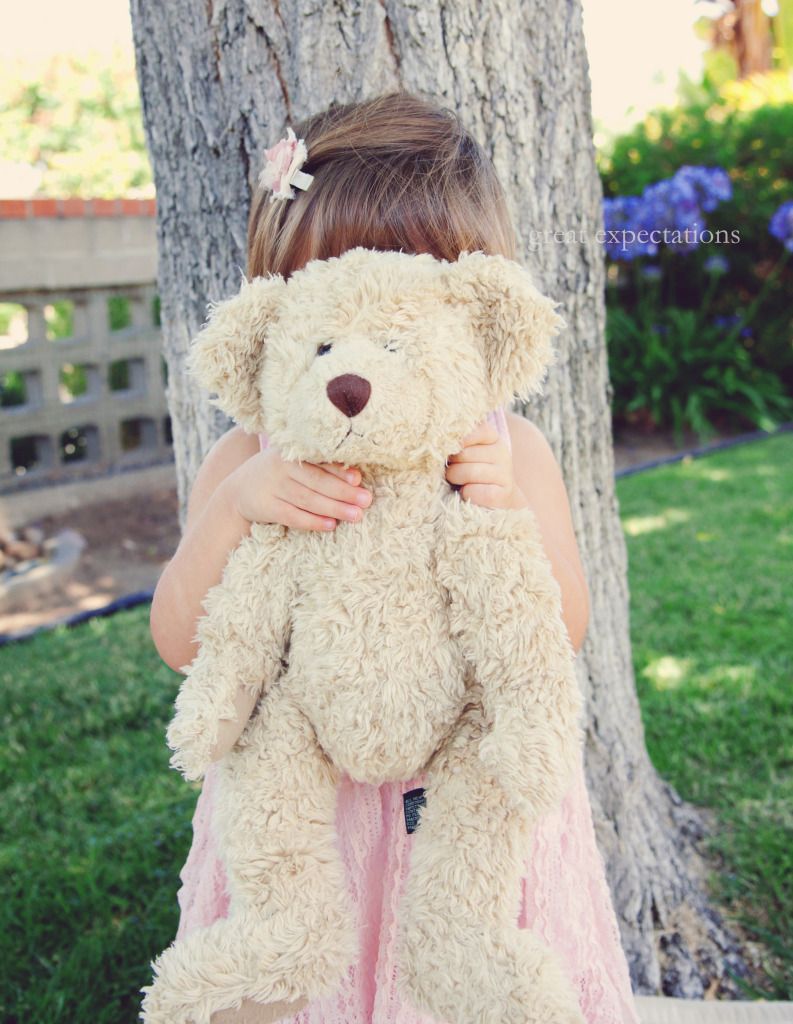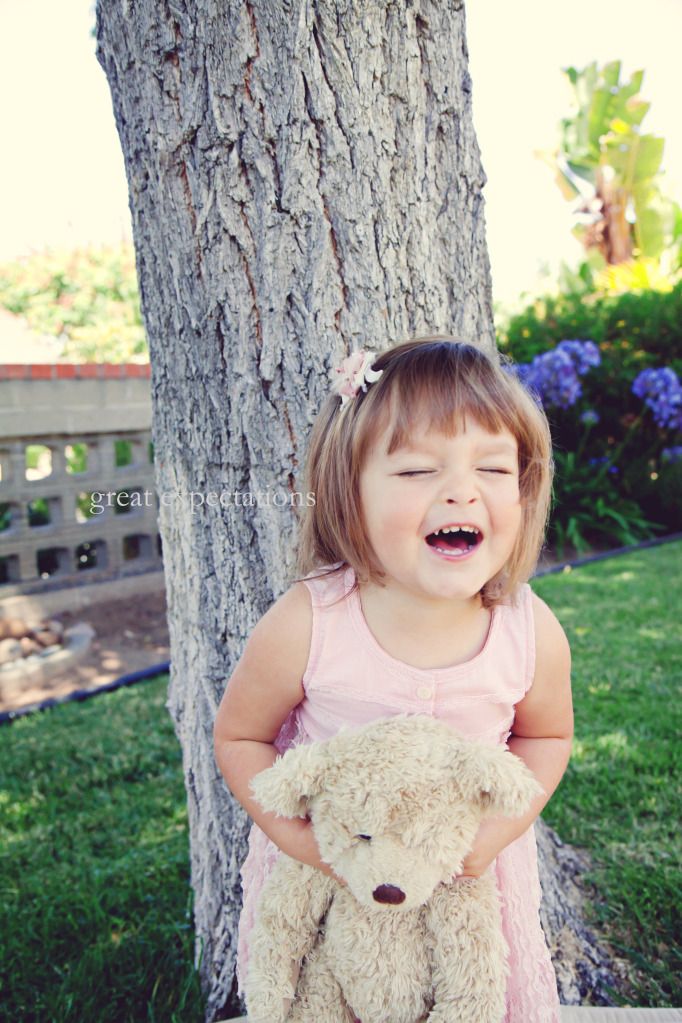 She thought hiding from the camera behind her bear was the
F
UNNIEST
thing! And this lead to me catching the best shots of her! They make me smile every time I look at them!
Stay tuned for some awesome upcoming blog posts including my DIY Pinterest project I just completed, an update to my
summer bucket list
, and pictures from our annual lake trip over the 4th of July holiday (oh wait...that was a long time ago huh? I'm really lagging here! Sorry!)
-