Okay, so Ellie's 2nd birthday is a little more than 3 months away....first of all...AGH! I'm going to have a 2 year old soon! Where did my little baby go? Secondly, 3 months away means I better start planning the party! Yes, I am a planner! I like to plan waaaaay in advance. Plus, I
like
love planning parties, especially children's parties. They are so much fun. I would love to plan parties as a side business...but wait, that would mean I would have to have some spare time...nope, last time I checked, I have none of that! But anyway, I am getting a head start on Ellie's party mostly because I am so excited and just couldn't wait any longer!
Since Ellie's best bud, Brayden, is only one month older than her, my wonderful friend, Lisa and I, decided to combine their parties this year into one bundle of fun. And because Lisa is so wonderful, she gave me the thumbs up to come up with the theme for the party. I knew I didn't want to do any sort of "character" theme (Sesame Street, Mickey Mouse, etc), and I also knew it couldn't be girly at all since the party would be for Brayden too. I have been in love with one particular theme for awhile now, and it is totally gender neutral.
So here is what we will be going with...a Vintage Circus theme!
(Image credit Etsy)




Maybe not super original, but I am so excited and I have a lot of fun ideas already! Who knows how many of those ideas will actually materialize in 3 months, but that's why I am starting now! Here are just a few things that I have found so far that I am loving.
- cute favor bags -
(Image credit Etsy)


- fun banner -
(do I dare try to make one like this myself?)
(Image credit Etsy)








- circus striped straws -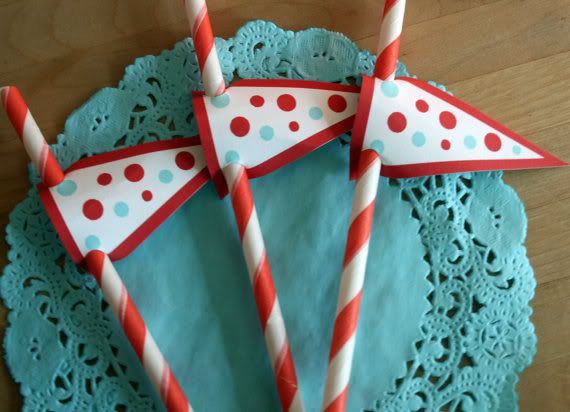 One of my friends/professional photographer who does all of Ellie's photo shoots will be there taking pictures for us, so I would love to set up some sort of "photo booth" area where she can take pictures of the guests wearing paper mustaches and other silly circus props. Hmmm, I could go on and on thinking of all of the fun ideas!
I'm sure I will post updates along the way, but stay tuned in November for the big "2nd Birthday Party" reveal post so you can see how it all turned out!
Have you guys seen any cute or original ideas for a Vintage Circus party? I would love to hear even more ideas!