Here's a little update on toddler-hood around our house these days...
- We are very lucky...Ellie really is a pretty good toddler. She's learning tons of new things everyday, and she is quite the gabber (until of course, we get around other people, and then she won't say a word, and she makes us look like liars..ha ha). It's pretty darn cute to hear her talking up a storm with that cute little voice!
- She sleeps in the strangest positions that make us laugh!
Sleeping, with her legs crossed up on the side of her crib! And of course, the only picture we could get was through the monitor since we have the lightest sleeper in the world!
- Speaking of sleeping, she's been wonderful sleeping at night. She still sleeps until 7:30 or 8:00 a.m. most days, and sometimes when we are very lucky, she'll last till 8:30 (that's the best when it happens on a weekend. Mommy and Daddy get to sleep in too). Naps around here are a different story. I know she is not ready to drop her one and only nap yet. She's not even 2! But there have been more and more days that she will refuse to nap. She'll roll around in her crib, talking to herself and her stuffed animals. Sometimes she'll bust out a song or two. Eventually, she'll pop up and start jumping in her crib, and soon after that she'll start calling out for us. We usually leave her in there for awhile in hopes that she will tire herself out. Sigh...take a nap child!
Who needs naps Momma? It's much more fun to play outside!
- And speaking of naps...Ellie has never been able to nap outside of her crib. Every once in awhile, she will fall asleep in the car, but that is rare. Napping in the stroller is absolutely out of the question. She just won't do it. A lot of that has to do with the fact that we got her into this routine of napping at home. Honestly, after 5 months of constant crying, when she finally started napping well, we didn't want to mess with it, so we would plan our lives around her nap time and always make sure she was in her crib for naps. Now, of course, we've created such a routine monster, that when we try to stray from her normal routine, she just won't nap. The good news is, she doesn't really have terrible meltdowns when she doesn't nap, especially if we are out and about. So, there is this part of me that wants to start planning all day activities on the weekends and stop living around her nap time. Maybe if we start doing that more and more, she will eventually figure out that if she's tired, and in her stroller, she should just close her eyes and sleep! But then there is the part of me that knows she still really needs her nap, and if we are forcing her out of the house and skipping her naps, that really can't be good for her health and well being...
- The potty training has begun! We've had the potty in the house for a little over a month now. She knows what it is, and is excited to use it. So far, only peeing, and only when we actually take her to the potty. She hasn't started letting us know ahead of time that she has to go. But, I still consider this progress. We aren't in any huge rush, and we are just hoping she will really catch on and start proactively telling us when she has to go. For now, she knows that she gets to wash her hands after she uses the potty (these are the little things she gets excited about), and she also gets a little treat. So that is enough to at least keep her interested in the potty!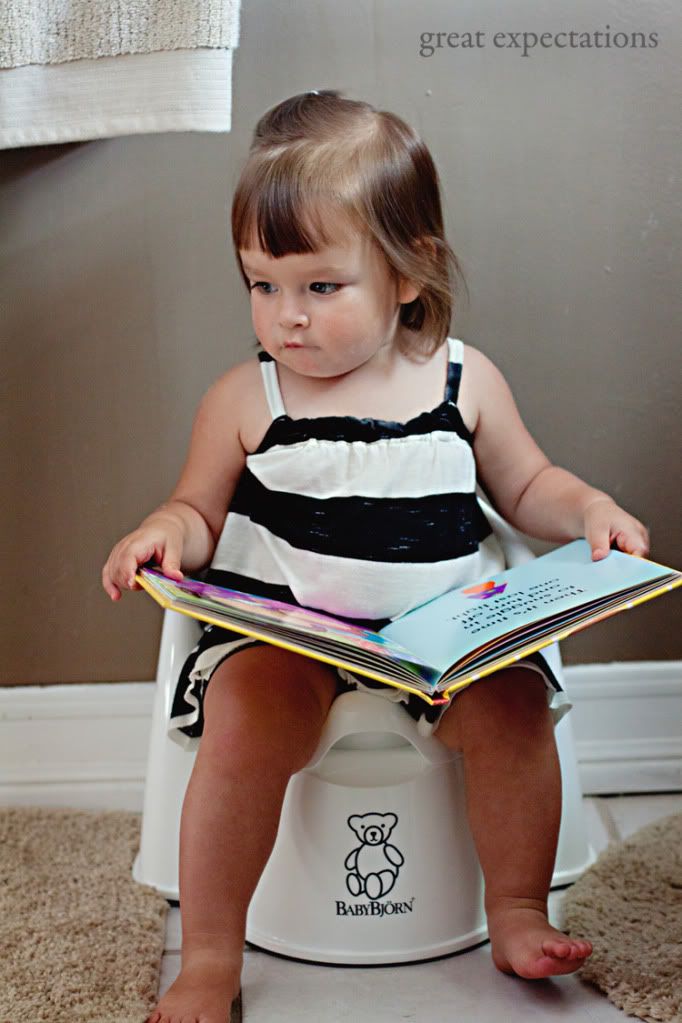 No, we don't let her use the potty fully dressed like this so that she pees all over her dress! This was one of the first days we brought it in the house, and she was just realizing that she could sit on it. That was only step one!
- Oh, the joys of toddler-hood. I can't tell you how many times I hear "I do it myself" in one day. She says it to me ANY time I am doing anything that remotely involves her, even if she has no idea what I am doing. Little Miss Independent!
- And onto the subject of disciplining...like I said, Ellie is a pretty good toddler, especially when we are out in public (thank you God!). But, oh boy, she does know how to throw those tantrums and she does get easily frustrated just like every other toddler out there. I'm struggling with how to discipline her right now. I know we need to start disciplining her more. She definitely knows right from wrong, and she knows when she is misbehaving. But I don't really think she is ready for time outs or anything similar to that yet. There is no way we could get her to stay in a chair for any given amount of time, especially if she is upset. I struggle with this, because I know children need boundaries and discipline. I do not want a spoiled bratty kid as she grows up. But there are so many times that bribing her or giving in is just so much easier! I definitely need to get more disciplined about the disciplining around our house! Any suggestions on disciplining at this age?
It's so hard for me to discipline this cute little face!