My little one had her first lollipop over the weekend!
This was a big step for me! I try not to give her too much sugar, especially candy. I firmly believe that it is up to the parents to teach their kids healthy eating habits, and this starts even at this young age. I'm not going to say that Matt and I are the absolute best eaters, but we definitely try to make a conscious effort (well, I do...and Matt just gets stuck eating whatever I cook!) I know how horrible processed foods and sugar are for your body. So I really try not to feed Ellie a lot of that stuff. When we are at home, she very rarely gets processed, boxed dinners or other microwave meals. Even the chicken and fish nuggets that she loves so much are 100% chicken or fish, with no processing or additives (more expensive?...yes...better for her?...yes!).
And when it comes to sugar, she already gets so much of it in the ridiculous blueberry flavored milk that she insists on drinking 3 times a day (and I only cave and give it to her because it is almost the only calcium she will take all day). So we also try to avoid giving her a lot more sugar in our house as well. Now, I do not want to end up being that mean mom that doesn't allow her to eat anything fun as she grows older, but I also think that, right now, she is too young to even know about all of those sugary treats and snacks out there. So there is really no reason to go out buy tons of that stuff for her when she will just as readily eat a piece of fruit, or a "not as tasty", but much healthier, sugar free cookie (which she absolutely loves, btw, so don't feel too bad for her!) And she
does
get plenty of treats, we don't deprive her...I just don't make it a point to keep our pantry stocked with cookies, and chocolate, and other sugary, packaged snacks.
However, this past Sunday, we went over to a friend's house and all the kids were eating lollipops. So, I unwrapped one for her and let her go for it. She liked it...but didn't love it (thank God!). She had more fun rubbing the sticky, messy lollipop all over her face, and my legs!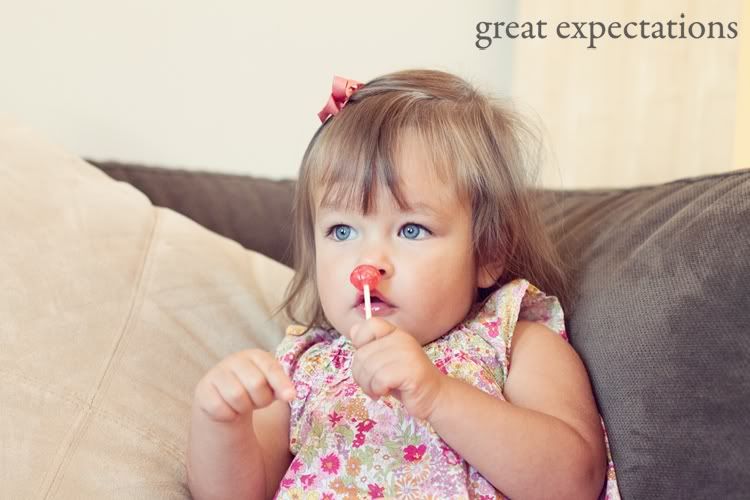 Her nose and the rest of her face was a big sticky mess after this!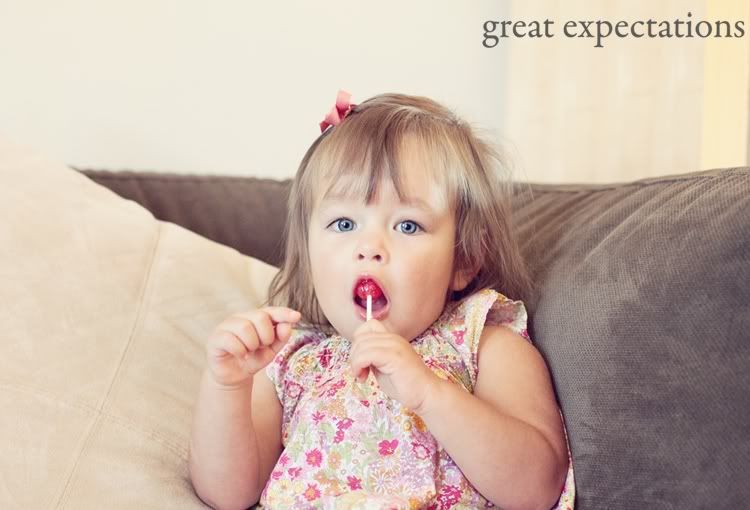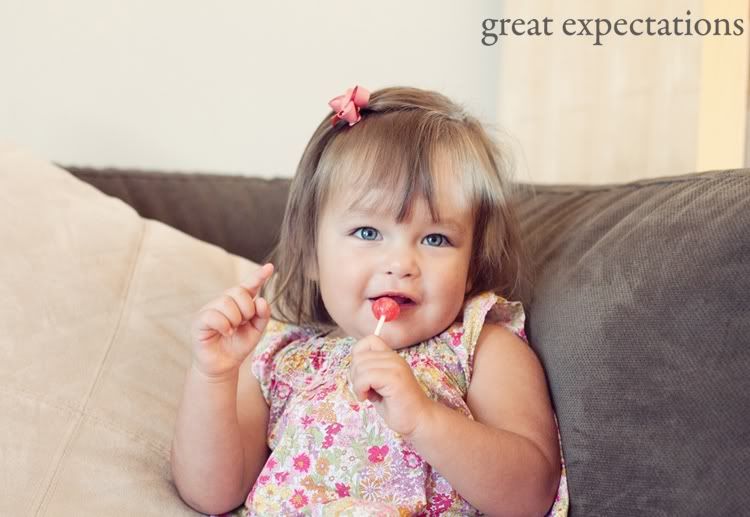 Oh Ellie, you melt my heart!
Thanks for all of your patience with my lack of posts lately. I am slowly, but surely decompressing and destressing, and I will be back in the blogging saddle soon!